Momentum for Earned Sick Days Builds Throughout New Jersey Municipalities
In the late summer of 2014, momentum for municipal earned sick days began to build in New Jersey. In the fall of 2014, six municipalities passed an earned sick days law; including,  Paterson, Passaic, East Orange, Irvington, Trenton and Montclair! Way to go New Jeersey! Let's keep this momentum building! 
The White House Summit on Working Families June 2014
Over a thousand advocates, workers, and business owners took part in the White House Summit on Working Families on June 23, 2014. New Jersey had a team of 4 advocates, 4 workers, and 3 small business owners in attendance! Our very own Ellen Bravo, Director of Family Values @ Work, spoke after President Obama (other speakers were the Vice President, Dr. Jill Biden, President Obama, and First Lady Michelle Obama and many more). Check out more photos on Facebook and watch a video recording of the event!
Newark's Earned Sick Day Celebration!
Newark is the 7th city in the United States to pass an earned sick day ordinance! The Newark ordinance allows private-sector workers to earn 1 hour of sick time for every 30 hours worked. Those that work in businesses with 10 or more employees can earn 5 paid sick days per year; workers in businesses with nine or fewer employees earn 3 paid sick days per year. In addition, workers directly in contact with the public are eligible to earn 5 sick days regardless of company size, and the days can be used to care for themselves or family members. The law's definition of family is expansive, and includes parents, grandparents, and siblings.
The May 28, 2014 celebration was hosted by Art Kitchen on Halsey Street, the owner, Justyna Stachowicz, is a member of the Main Street Alliance and supportive of the earned sick days ordinance. The event included a press conference that highlighted local workers, a Dr. from University Hospital, Mayor Luis Quintana, Mayor Elect Ras Baraka, Councilman Anibal Ramos, Councilwoman Mildred Crump, Councilman Darrin Sharif, Analilia Mejia (Executive Director, New Jersey Working Families) and Okenfe Lebarty (Organizer, New Jersey Citizen Action). Other attendees included Susan Schear, owner of ARTISIN and Mikali Harris, owner of Sweet Retreat in Newark, both members of the Main Street Alliance.
Mother's Support Policies that Value Families!
Happy Mother's Day 2014!
White House Regional Forum in New York City
On May 12, 2014, the regional White House Summit on Working Families was held in New York City to discuss how to better workplace practices in the 21st Century for all Americans. The Summit featured Valerie Jarrett Chair, White House Council on Women and Girls and Thomas E. Perez, U.S. Secretary of Labor.
Statewide Earned Sick Day Press Conference
On April 8, 2014, the statewide earned sick days campaign launched at the New Jersey State House in Trenton. Senate Majority Leader Loretta Weinberg and Assembly Woman Pamela Lampitt announced their sponsorship of identical bills in both house of the legislature that would allow workers to earn one hour of paid sick time for every 30 worked. The state earned sick day bill, if passed, would be the strongest in the nation. The bill would cover all workers and give them the ability to not only stay home to care for themselves when sick, but for family members. Unlike the Connecticut law, the New Jersey bill covers all workers regardless of the size of the business or the industry sector in which it falls. NJ Time to Care Coalition members from various organizations, including a worker that would be impacted by passage of the state bill, spoke passionately about all the reasons why earned sick days is needed and should be a basic right.
Tipped Minimum Wage Hearing
On March 24, 2014, the Assembly Labor Committee approved bill A-857 to revise the allowable tip credit to so the tipped wage would reach 40% of the minimum hourly wage in 2014 and 69% in 2015 which would raise the minimum hourly wage for tipped workers from $2.13 an hour to an estimated $3.39 by the end of 2014 and $5.93 by 2015. Testimonies were delivered by members of the NJ Time to Care Coalition; Restaurant Opportunities Center, NJ Citizen Action, and Center for Women and Work, as well as Anastasia Braucht, a bartender from the Jersey Shore who described her experience living off of tips and argued that raising the tipped minimum wage would bring more economic security to her industry.
When Women Succeed, New Jersey Succeeds Forum
On January 30, 2014, the day following a national Tele-Town Hall that brought together thousands of callers across the country to discuss an agenda to advance women and families, a more intimate, in-person gathering took place in the State House in Trenton. We gathered to celebrate the work that's already been done in New Jersey and call for expanding it nationally.
2013 NJ Time to Care Coalition Highlights
Newark Earned Sick Days Press Conference
Germie the Germ visited Newark on December 18. 2013 and helped convince Newark City Council to stop germs from being spread by strengthening the City's proposed Earned Sick Days bill! Thanks to bill sponsor Anibal Ramos, Council President Mildred Crump, Councilman John Sharpe James, and Councilman Ras Baraka for attending. And of course thanks to all of the amazing communities members and advocates!
Jersey City Signs Earned Sick Days Legislation Into Law!
Jersey City Mayor, Steve Fulop, signed the Earned Sick Days Legislation into law on the morning of October 21, 2013. The signing took place at Helen's Pizza, a business that strongly supports the ordinance. The Earned Sick Days Legislation will go into effect on January 24, 2014.
Jersey City Passes Earned Sick Days!
Coalition Partners make it possible! AARP, AFSCME Admin. Council 1 & Women's Committee, AFT New Jersey, CIR-SEIU, CWA Local 1036, CWA NJ, HPAE, IFPTE Local 194, Main Street Alliance, New Jersey Citizen Action, New Jersey Policy Perspective, New Jersey Working Families Alliance, New Labor, Next Step, NJ NAACP, NJ NOW, NJ Work Environment Council, SEIU 32BJ, SEIU NJ State Council, Statewide Parent Advocacy Network, and URA-AFT Local 1766! Now, on to Newark!
Supporters Joined Mayor Fulop in Jersey to Advocate an Earned Sick Day Policy for the City on September 9, 2013
New Jersey Women Support Earned Sick Days
On August 8, 2013, dozens of Women leaders from across New Jersey came together at the statehouse in Trenton to urge the state to join a growing national movement and ensure all workers in the state have access to earned sick days. The need for earned paid sick days is especially acute for low-wage workers, the majority of whom are women, who frequently lack benefits afforded higher income workers. Nationally, nearly 4 in 10 working women do not have access to paid sick days, and women-dominated industries are the least likely to have paid sick leave. New Jersey women leaders want the Garden State to join in the growing momentum across the U.S. to provide earned sick days for workers -- a number of states and cities, most recently our neighbors in New York City, have already adopted earned sick days policy for their workers. Over 150 New Jersey women leaders have added their names to a statement (bitly.com/womensupportearnedsickdays) calling for implementation of an earned sick day policy in New Jersey. Speakers at the event were: • Phyllis Salowe-Kaye, Executive Director, New Jersey Citizen Action • Lizette Delgado Polanco – Executive Director, SEIU New Jersey State Council • Deborah Jacobs – Vice President, Advocacy & Policy, Ms. Foundation for Women • Kerry Butch – Executive Director, League of Women Voters of New Jersey • Marilyn Askin – Chief Legislative Advocate, AARP-NJ • Loretta Winters – Chair, WIN New Jersey (Women in the NAACP Committee) • Jennifer Armiger – President, National Organization for Women (NOW) NJ • Myra Terry – Long-time feminist activist • Honorable Sheila Y. Oliver, Speaker, NJ State Assembly
Women's Lobby Day 2013
On June 20, 2013 over 200 individuals joined together in Trenton for New Jersey Women's Lobby Day. Participants reached out to their legislators to gain their support for earned sick days and other issues that impact women and families. Participants shared stories of balancing work obligations and family responsibilities and asked their elected representatives to cosponsor earned sick days legislation.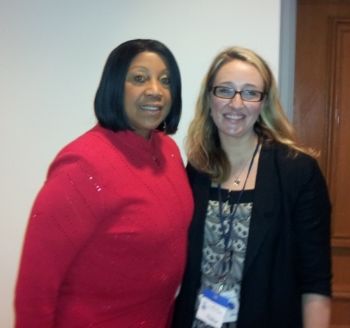 Assembly Speaker Sheila Oliver and Yarrow Willman-Cole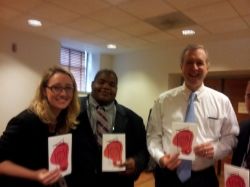 Yarrow Willman-Cole, NJ Citizen Action Jason Redd, Chief of Staff, Senate Majority Leader Deputy Speaker John Wisniewski, NJ State Assembly
Family Values at Work Annual Meeting
National Summit on Paid Sick Days and Paid Family Leave
The New Jersey Time to Care Coalition recently attended the National Summit on Paid Sick Days and Paid Family Leave in Washington D.C. They joined together with over 200 advocates from around the country to discuss strategies in the fight to advance family-friendly policies such as paid sick days and family leave insurance. Participants had a day of training with choices ranging from campaign planning to social media planning. On the Day of Action, Minority Leader Nancy Pelosi was honored for her leadership in fighting for working women and men across the country. Sen. Tom Harkin (D-Iowa) also spoke as chairman of the Senate HELP Committee and lead senate sponsor of the Healthy Families Act. The Coalition members then went to speak with their representatives about federal legislation for paid sick days.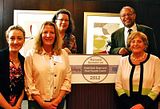 Yarrow Willman Cole, Jean Pierce, Karen White, Rex Reid, Phyllis Salowe-Kaye
Senator Harkin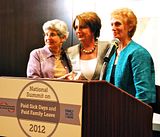 Judith Lichtman, Nancy Pelosi, Ellen Bravo
Family Leave Insurance's Four Year Anniversary Event